holy crap, is winter over yet? i'm getting really sick of this grey, crappy, icy, wet weather. i'm ready for sunshine. i'm sure we'll have a few more weeks of this crap, which means i should make a batch of corn chowder some time. Ok, this isn't really a "chowder", as it's not thick, but it is a cream based corn soup, and one of my favorite comfort foods. and it's really easy to make!
you'll need:
1 1/2 cups chopped celery
4 green onions, chopped
3 tbsp butter
4 cups low sodium chicken broth (2 cans)
3 cups milk
1 can of cream style corn
2 cans sweet corn
salt and pepper
in a large thick bottomed sauce pan or dutch oven, saute the celery 3 minutes. add the green onions and saute another minute. stir in the flour, and stir constantly for 1 minute. add the chicken broth, and continue cooking until mixture boils for one minute. it should noticable thicken. Stir in milk and corn. add salt and pepper to taste, and heat slowly till hot.
this is one of my favorite foods from childhood. it's nothing fancy, but it's the best comfort food in the world to me.
mmmm... now that i'm all happy thinking about soup, i can give you the book news of the week:
Book reviews are up for Albert Dalia's
Dream of the Dragon Pool
and Jeff Vandermeer's
Shriek: An Afterword
. If you're going to read only one book this year, make it Vandermeer's. this man is beautifully strange. i wonder if i would like him if i met him? he's somewhere at the intersection of "New Weird", dark fantasy, and steampunk. all of those things at the same time, but also, not them. perhaps i'll start haunting Vandermeer's
blog
.
other books on the horizon include my newly aquired copy of The Stainless Steel Rat by Harry Harrison, along with previously mentioned delishious books from the library. The "ARC's expected list" includes
Scales
, a scifi thriller by Tony Williams, a british military historian of international fame. I hope his fiction is as good as his books on weapons, which i think my husband may own a few. . (the books, not the weapons), and something called
Perverted Realities
by Jennifer Caress. Perverted? ummm.... ok. . . .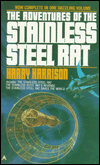 so many books, so little time. so much good food. . . . .