I have received the holy grail, and I am bragging about it to everyone I know!
Behold!!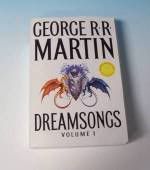 and I got the ARC of the second too! (I just didn't have it with me at work, when I took the photo). Stay tuned for reviews on SFRevu later in the fall. So far, I'm most impressed by the apparent retail of these books, less than $30 each, and about 700 pages. If you are looking for that perfect gift to keep your husband/wife/child/sibling/cousin/friend out of your hair for a good long white, this is it.
and I also got the ARC for the new M.John Harrison, Nova Swing. It's a psuedo-sequel to Light (and the covers of both books are negative opposites of each other, which is just the coolest thing. I need to post a photo of the books next to each other, so you can see it in all it's glory). He writes so. . . halucinagenically. A nice contrast to Martin, don't you think?
i'm gonna go dive in my Martin.